Pacemakers (Temporary)
Single Chamber Temporary Cardiac Pacemaker- EV 4543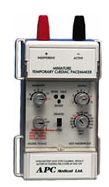 This model is designed to provide acute therapeutic, prophylactic and diagnostic pacing support. It is capable of operating in the demand or asynchronous mode and include adjustable rate, output and sensing controls. It has a rate-tripling (x3) control which provides high-rate pacing up to 450 ppm for use in rapid-atrial stimulation.
The EV series pacemakers have constant voltage outputs which are capable of delivering more energy to the patient than similar constant current devices. This feature provides a definite advantage in establishing and maintaining capture when encountering low impedance in pacing leads.
This model is powered by standard 9-volt battery and is compatible with most endocardial and myocardial lead systems.
The device comes completely with carrying case, arm straps, extension cable and instruction manual.
During the replacement of the battery the device continue functioning for 10 seconds.
Dual-Chamber Temporary Cardiac Pacemaker - Micro-Pace 4570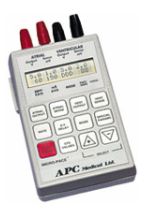 11 pacing modes (5 for dual chamber)
User-friendly
Maximum tracking rate 230 ppm in DDD mode
It is a programmable dual-chamber temporary cardiac pacemaker capable of multi-mode, multi-parameter operation.
In DDD mode, MICRO-PACE will sense and pace both atria and ventricles, restore A-V synchrony and improve cardiac output.
It is supplied in a durable plastic carrying case with two extension cables, two 9V alkaline batteries and an arm and a waist strap for convenient attachment to the patient. A snap-on hanger is available for IV pole mounting.